Excalibur
is a purple gas giant planet located in the
Deratrea Solar System
that is charicterized by it's many rings. However, it's rings are unlike those of a planet such as
Saturn
, where the rings are all lined up.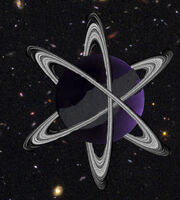 Instead, they each take a different path. Excalibur has a total of twelve rings, giving it a unique apperance unlike anything seen in the universe so far. Excalibur is also home to the main base of operations for
SkyClan
. The only settlement on Excalibur is a massive city ironically called
Transistor
, which floats in the atmosphere and covers a wide swath of the planet on one side. Excalibur is also unique amongst gas giants as, besides it's rings, it has no natural satellites.