United Space Republics (USR)

The USR's current logo.

Type

Protagonist

Group Category

Core Group

Status

Operating

Marins Active

200407 - Present

Ex. Administrators

Derek, Steven, Spencer, and Andrew
The
United Space Republics
(also known as the USR) is ultimately the allicance between all protagonists. The USR consists of 4 parts-
SkyClan
, the
Stormbringer Empire
,
Ion
, and
The Trans-Mallux
. At one point, the
Axis Alliance
was also a member, but it ended it's membership after the declaration of the
Triglac War
.
The USR was created by SkyClan in
200407
as a supreme ruling power in the known universe. Derek decided that after the
First Gostrusum War
ended, SkyClan and
Stevonia
should combine their efforts and create the ultimate protagonist group. One
colomarin
after the war ended in
200409
, SkyClan and Stevonia leaders meat in Adon territory to discuss plans for the "United Space Republics". It wasn't easy. But eventualy, the second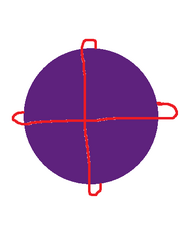 largest group in C-Fighter War history was created.
Infighting
Edit
Amongst multinational organizations throughout history, the USR has been rather, unstable. Of the five historic member states, all except The Trans-Mallux have fought each other at least once, with the majority of major wars occurring due to this infighting.
The USR Today
Edit
Today, the USR is one of the largest groups in the galaxy. It has at least 25,000 executive members, and is ultimatly the most powerful group around. Although sometimes the governing members go at war, collapse of the USR is not expected to happen anytime soon.
In 200411, Ion suddenly broke from the USR and started a new squadron, the R (Revised)-USR, to be led by Ion. However, no one disliked the long-standing SkyClan-led system, and, fearing a crackdown like that which Ion committed unto Deron a few vetamarins earlier, no other organization joined.
Be Updated
Edit
The USR always wants to keep it's members informed and at the ready. The USR will automatically notify members of an alert/update. To check the message board listing all updates given in the last 20 colomarins, click here. To see other updates given after 20 colomarins, click here.
Leading Members of the USR
Edit
The Big Four
Edit
These are the four main members with the leadership of the four largest singular groups in the USR (all divisions).
Derek: One of the four more powerful people in the USR. Derek created the first set of laws the USR uses. He was one of two major people, the other being Andrew, who first started the group.
Steven: [Assigned: StormbringerEmpire791]
Spencer: Another one of the four more powerful people in the USR. Created Dubstep weaponry, and is one of the lesser-known leaders. He joined in late 200410 under the Ionic Republic.
Andrew: [Assigned: Phont]